Esnagami Wilderness Lodge – The Ultimate "Staycation"
Featured
by Harold Ball
Field Journal
Stay what?
"Staycation"
A word that has become part of our regular vocabulary now that we are living with, or some might say in the shadow of COVID 19.
It terms of what it actually means, arguably it's something of a misnomer and could be read to infer that until we have this virus under control, any "vacation" we plan on taking should be limited to moving out from under our beds to perhaps the couch in the family room, or for the really adventurous maybe get out as far as the backyard deck – assuming of course that we have one - and are willing to take the risk.
For others, it has meant staying within Canada and for the most part, limiting travel plans to places within our own province, either because it was the safest and most responsible course of action to take if we needed a break from staring at the dust bunnies under the bed, or in some cases because provincial borders have been, and remain closed to non-residents.
If having decided that you really do need a break from the routine this year, including a change of scenery, the challenge then arises to find something that offers the kind of experience, activities and facilities all at a price point you can afford, and perhaps most importantly, provides a safe environment for you and those who may be tagging along.
One such place that I would highly recommend you consider is Esnagami Wilderness Lodge - http://www.esnagami.com – which is located just a short float plane ride - which I might add is included in the price of your trip - north of the town of Nakina, in northwestern Ontario.
But with so many options to choose from, why Esnagami Wilderness Lodge?
Allow me to explain.
Staying Safe
Safety first as they say, perhaps more so now than it has ever been in our lifetimes.
Your hosts Eric & Sue Lund, together with their staff take the safety of their guests very seriously and have implemented a comprehensive and robust set of COVID protocols to ensure a safe environment for all during your visit.
These include cleaning and sanitizing cabins and boats, placing hand sanitizing stations in each cabin and in various locations around the camp and dock area, as well as dining options that include either in cabin dining or responsible, social distancing compliant dining room service, provided government regulations so permit.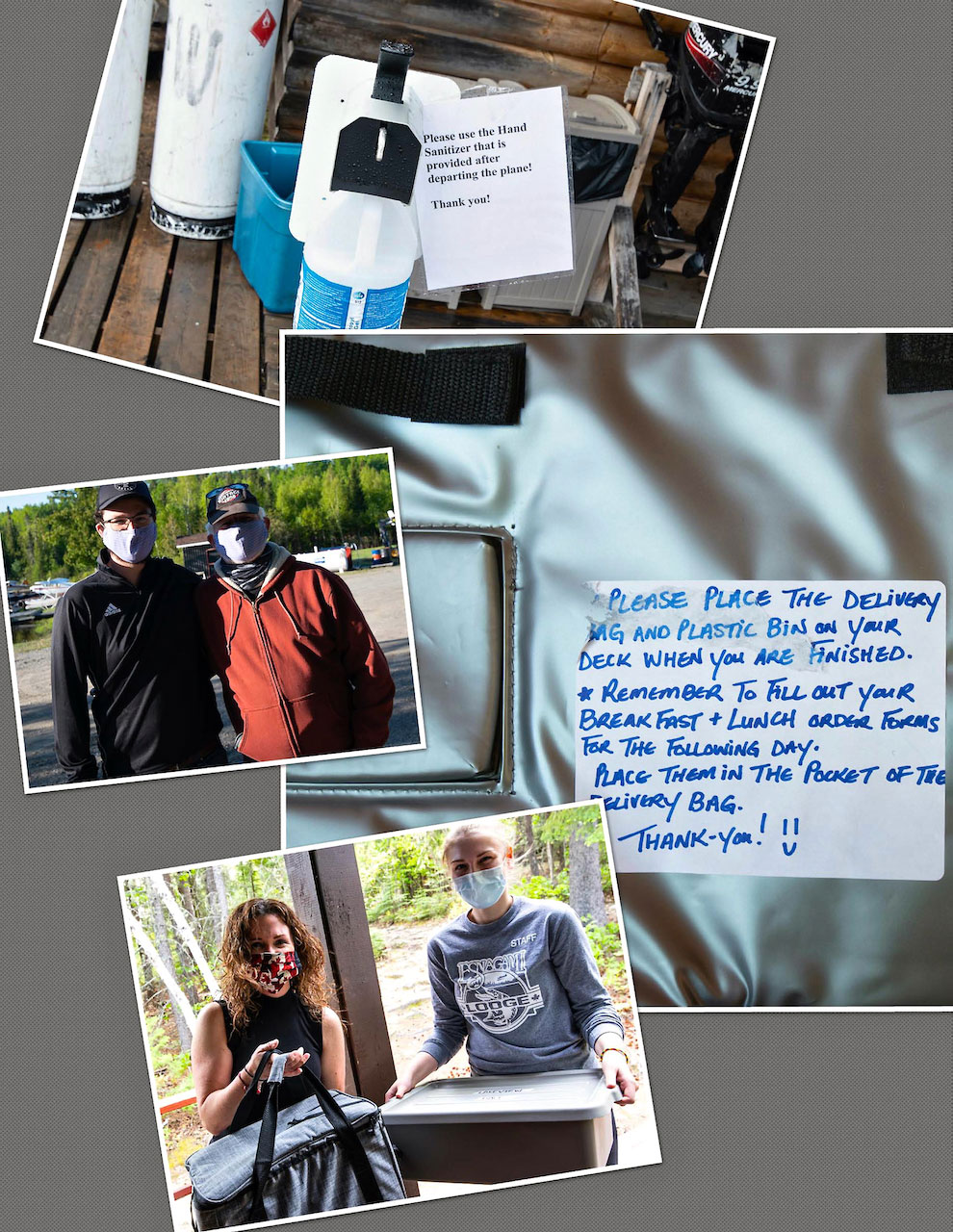 If you plan on cooking your own meals, and therefore decide to go with the Housekeeping Plan, in order to minimize any additional contact en route by stopping to shop for groceries, just send them your grocery order a couple of weeks before you arrive, and they will have it waiting for you at the lodge.
In addition, Nakina Air Services, who will be flying you into the lodge, also have thorough safety measures in place.
For a full outline of the lodges COVID safety measures click on:
http://www.esnagami.com/covid-19-summer-2020-preparations/
I'm Going All In!
If you opt for the American Plan, then the only thing you have to worry about is not being late for breakfast and dinner – because everything else, right down to the smallest detail is taken care of. For example:
Meals and deserts are prepared fresh daily and feature dinner entrées such as Prime Rib of Beef and Roast Turkey with all the trimmings – and if you're really lucky, for breakfast Sue will make up a batch or her world famous "sticky buns" which I can assure you are to die for. And speaking of breakfast, it's made to order, with a large selection of items to choose from, including all the usual suspects together with fresh fruit and home baked goods.
Box lunches, or if you prefer, a shore lunch kit, will be ready and waiting for you in your boat each morning.
All linens and bedding are provided, so there is no need to lug any of that up with you, unless of course you have a favorite pillow or stuffy that you just can't do without - lol.
Boats are cleaned, and gas tanks refilled after you come in from your day on the water, so everything is ready to go when you are the following day.
Taking some fish home? Just drop them off at the main dock and they will be cleaned, frozen and packaged up for your journey home.
If you happen to enjoy a glass of wine from time to time the lodge offers a nicely balanced selection of reasonably priced wines to choose from, that are great for just sipping and/or to compliment your dinner entrées. They also keep a variety of snacks, beer and soft drinks on hand, unless of course you prefer to bring your own.
Having done so myself on numerous occasions, a really great way to finish up the day is to kick back on the deck of your cabin, and pop open a bottle of Prosecco while enjoying one of Esnagami's extraordinary sun sets.
Lodgings
Assuming the dining room is open, and you choose that option, meals will be served in the lodge's spectacular, cathedral ceilinged, hand crafted log dining room, that features a fireplace and rustic, handmade chandeliers.
You will be staying in individual log cabins, that are well spaced for privacy, and all have decks with a view of the lake. Each cabin has comfortable beds and chairs to stretch out and relax in, hot and cold running water, 3 - piece bathrooms, electricity, and all have either wood burning stoves or propane heaters, just in case it gets a bit chilly during the evening or early morning hours.
Stuff to Do – Or Not…
If you are looking for a "staycation" where you don't have to lift a finger, unless it's to open the bail on your spinning reel, press the shutter button on your camera or turn a page in your book, then you're really going to like this place.
Because this is YOUR vacation, what you actually do or choose not to do is entirely up to you. Other than breakfast and dinner service, there is no set routine or need to be anywhere at any time that doesn't suit your convenience or particular mood on any given day.
EWL is the only lodge, or for that matter the only structure of any kind on the lakes entire 18,000-acre expanse, so there is plenty of room to spread out, and it's not unusual to go an entire day without seeing another boat while you are out on the water.
The lake features a seemingly endless number of islands – over 200 by last count - and secluded bays, that are perfect for pulling in and enjoying a picnic or shore lunch – including taking a post luncheon nap on a soft bed of spruce needles.
The Fishing
By now some of you many have been wondering when I was going to get around to mentioning the fishing.
In a word – well make that two words – it's spectacular.
Esnagami Lake boasts some of the best Walleye, Northern Pike and Brook Trout fishing the province of Ontario has to offer.
Chunky, feisty Walleye are found throughout the lake, while monster, tackle busting Pike are just waiting to attack whatever you toss their way in the countless, spring fed weed beds. Brook Trout up to 5 pounds can be caught in the Esnagami River, or in a series of artesian spring fed ponds that go by the somewhat whimsical name of "Wonderland."
The fishing remains consistent from May through to September, although river fishing for brook trout, because it's subject to the water levels in the river, is generally only available from late May to early July,
Whether your preference is spin fishing, bait casting or fly fishing, Esnagami Lake will not disappoint, and if you really want to kick back and relax, experienced guides are available for hire, who will not only put you on fish, but also prepare a delicious shore lunch featuring the fish you have just caught.
To top things off, as pictured in the introduction to this article, you will be fishing out of beautiful, comfortable, hand - crafted cedar strip boats, that are manufactured by B. Geisler & Sons Boat Builders - http://www.gieslerboats.ca - located in the town of Powassan, which is just south of North Bay, Ontario.
For more information on the fishing, including their catch and release program, tackle and tactics, visit the lodges website at: http://www.esnagami.com
Critters
If wildlife viewing and/or photography is something you enjoy, then you're in luck.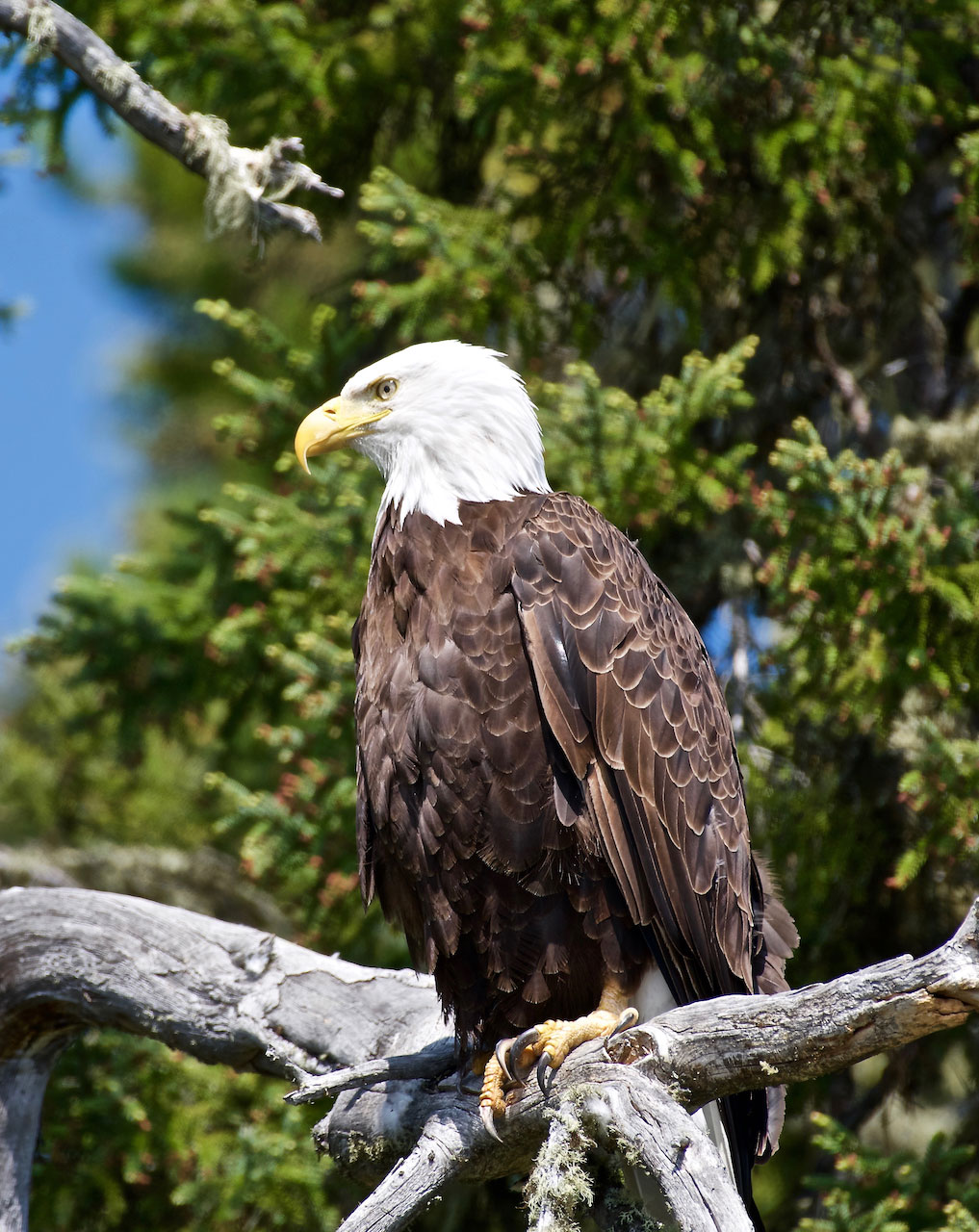 Bald Eagles, Ruffed Grouse, Ospreys, Pelicans (no kidding), Loons, Terns, Bonaparte Gulls and a wide variety of ducks, including Mergansers and Golden Eyes are to be found throughout the area, and if you have something with four legs in mind, Moose, Black Bears, Wolves and something truly special and unique, Woodland Cariboo are regularly sighted.
So don't forget to pack a camera and/or pair of binoculars.
The People
The success of any business in the hospitality sector very much depends on the quality of the individuals who operate it – and Esnagami Wilderness Lodge is no exception.
As mentioned earlier, your hosts are Eric and Sue Lund, and you will not in my opinion, find more congenial and helpful individuals than the Lund's, who go out of their way each and every day to ensure that you will have the very best "staycation" possible.
In fact all of their staff are professional, friendly and completely focused on making your Esnagami experience second to none.
What Do I Know?
Now those of you who don't know me – or come to think of it those that do - might quite properly ask – "what the hell does he know?"
And while I get asked that a lot, not only have I been a guest at the lodge for over 20 years (and counting) I've been fortunate to have visited many lodges throughout North America, and can say without qualification that whether you go just for the fishing, a family vacation or simply want to kick back and relax in the great outdoors, you will be hard pressed to find a lodge that offers such a quality, comprehensive and relaxing wilderness experience - or if you prefer "staycation" - at any price.
Packages, pricing and everything else you will need to know in order to plan your trip can be found at: