The We Work for Food Construction Company IX - We've Been Benched!
Our day began bright and early, although at 4:00 am there was very little in the way of "brightness" to be found, particularly when it came to my fellow travellers.
Roman, who could sleep on a clothesline in a hurricane, was lights out shortly after I pulled away from the curb, and it would be at least another couple of hours before Lou got something approximating his bearings.
Our 13 ½ hour drive was broken up by several stops for fuel, ice cream – gotta stop at least once for ice cream – and breakfast in New Liskard, but remarkably, not even one pull off to pick up some screw, nut, bolt or other bit of building material we forgot to buy before heading north.
In fact, our stock of building materials was pretty damn skinny, consisting only of several 2x4's, a sheet of plywood, and a few pieces of hardware,
I suspect it has something to do with the fact that the bulk of our work on the camp has been completed. But, having said that, never underestimate the creative genius of the We Work For Food Construction Company, because you can bet that by the time next year rolls around, they will have come up with a new list of "must have" improvements and add-on's.
I've already booked an appointment with my banker.
Tote That Barge and Lift...
While the water levels on our river had dropped throughout the month of August, I was surprised to see that virtually all of the lakes, and many of the rivers we passed en route, had relatively high water.
This may, or may not have something to do with the fact that the majority of these bodies of water are located in the Arctic Watershed, while we are just on the other side of it.
Who knows?
In any event, when we crossed the river where it slides under Hwy #11, the water was definitely down, and the only question was, how much toting, lifting, and/or pulling we would have to do in order to make it into camp.
As tradition required, Lou brought along his "fish" shaped flask, containing just enough Courvoisier to ensure that we were well fortified for any of the challenges that may lie ahead.
Once our mini barge was loaded and the boat launched, we made it through some of the trickier parts of the river (tricky in this case means shallow) without incident, and while the water was too shallow to drive through the channel connecting the river to our lake, we were able to pull both the boat and barge in with relative ease.
The weather report for the area indicated that things were going to be a bit unsettled, and for once they were right. We were rained on several times along the way, and it looked like we would likely get soaked heading into camp.
As luck would have it, the one patch of blue sky poking through the clouds in the entire area, was hovering right over the boat launch, and while I put on my rain gear just in case things changed along the way the boys, being optimists by nature, left theirs in the barge.
Well, we almost made it, but just as we were approaching the channel, the skies opened up, and 2 out of the 3 of us got a little damp. Fortunately it was a brief shower, so no harm done, and we did have the contents of the flask to take the chill off.
Opening camp has now become something of a breeze, with everyone instinctively knowing what needs to be done, and who would in fact do it.
I got the interior of the cabin organized, which included getting the stove and BBQ working, mattresses laid out, and everything we would need for dinner that evening, and breakfast the following morning ready to go.
The boys got the water system up and running, and although Lou was intent on hooking up the heater, we managed to talk him out of it, which was just as well given the fun they had installing it the following day.
Cocktail hour had finally arrived around 8:30 pm, and after snacking on some Macadamia nuts, while throwing back a few libations, we sat down to dinner.
In the event you're interested in how the boys were fed and watered throughout the week, all of our breakfast, dinner, wine, and cocktail selections can be found in the Le Menu section following this narrative.
Given the late hour, we decided to forgo our evening campfire, so Roman, who was on a strict firewood quota in that he almost turned our wood stove into a molten mass of metal last year, sparked up a nice little fire, which made our sleeping quarters warm and toasty throughout the night.
Uh, Thank YOU... no, no, no… Thank YOU!
So how many of you have heard of the Goofy Gophers?
No, not Chip and Dale of Disney fame – they were in fact chipmunks - but rather the overly polite little hellions created by the folks at Warner Brothers?
But more on this a bit later in the narrative.
Being nice and warm tucked up under our blankets and sleeping bags, no one appeared to be in a big hurry to hit the deck, but a flunky's work is never done, and there were things to do, so it fell to me to break the ice – so to speak.
Breaking the ice was a lot closer to the truth than I was expecting, as the outside thermometer read a rather brisk 34 degrees – Fahrenheit that is.
Stepping outside and giving the thermometer a couple taps, just in case it was stuck, it didn't move one iota, so we were just going to have to suck it up.
I immediately got the coffee going, knowing it was probably the only way to lure those 2 out of bed – that and lie about the temperature.
Once they finally started moving, we broke our fast around 9am, which was much later than usual, particularly during those years where our work day started at least an hour earlier, and if we were lucky, ended some 10 plus hours later.
Today's big job was going to be the installation of the water heater, followed by the removal of 2 trees, which had decided that lying across the top of the roof was much preferable to standing upright.
We were lucky to have talked Lou out of having a go at the heater the previous day, because despite his commendable optimism that the job was going to be a "piece of cake," it was anything but.
Later that day, I felt compelled to remind Lou that an optimist is merely a pessimist who happens to be looking in the wrong direction at any given time.
Things appeared to start off fairly well, but when asked if I could expect some hot water anytime soon, my question went unanswered.
In fact, I heard Roman say on at least 2 occasions that:
"It's just not possible!"
As they were clearly under a great deal of pressure, rather than continuing to ask them the whereabouts of the hot water every couple of minutes, with the occasional reference to "piece of cake" thrown in for good measure, I began heating a pot of water on the stove so I could do the dishes.
The heater was removed from its stand several times, where it was poked at, prodded, and otherwise fussed over. There was even an attempt to bring it into the cabin to undergo further inspection, which I immediately put a stop to on the grounds that they would likely flood the entire dining area during the disassembly process.
After what seemed like an eternity, water was finally flowing through the heater, and even though we had ignition, the water temperature was at best tepid, which I was quick to point out was not nearly hot enough for dishwashing and/or showering purposes.
Given the nature of the problem, I ventured to suggest that having a gander at the instructions might prove helpful, whereupon I was told in no uncertain terms, that instructions were only for those who lacked the technical acumen of the WWFFCC.
After all, what does a mere flunky know about such complex matters?
There were more adjustments made over the next hour or so, with no appreciable improvement in the water temperature.
Desperate times call for desperate measures, so into the cabin they came, and rather sheepishly began going through the instructions – that's right – I said the instructions.
While doing so, Roman glanced over at Lou, and intimated that "he" – meaning Lou - was about to crack, and "tell me."
"Tell me what?" I politely inquired.
As no coherent answer was forthcoming, I pressed a bit harder, and Lou finally "cracked," and admitted that the earlier problems with water flow occurred because "they" – that would be the "royal they" – had mixed up the input and output hoses.
This started a hilarious exchange, as to whom "they" really was, that lasted for the rest of the week, and as far as I know, may still be going on to this day.
To make a long story short, the instructions – yes the instructions – provided all the information needed to adjust both the flow and temperature dials, in a way that provided water at just the right temperature and pressure for showering and washing the dishes.
Now how about that…
After a well earned break Roman, our high steel man, climbed up onto the roof, and set about the task of sawing the larger branches off the fallen trees, so we could eventually pull them down.
While Roman has no peer when it comes to anything connected with our steel roof, he is somewhat lacking in his arborist vocabulary, and in particular the word "Timber!!!"
Now why you may ask, is this such an important word?
Because it lets you know that it's time to run, just before a large piece of wood comes tumbling off of the roof, and lands on the exact same spot where you were just standing seconds ago – that's why.
Once the trees had been removed from the roof, and cut into suitably sized pieces for not only this evenings campfire, but as luck would have it, the next 2 as well – we FINALLY, after 3 years of waiting - were treated to our first hot showers in the "new" shower room/sauna.
It was salubrious!
3 years is certainly a long time to wait for a hot shower, and if you're interested in knowing why it took so long, just read both WWFFCC VII & VIII, which can be found in this section of the blog, for all of the details.
We finished showering just as the clock struck 6, signifying that cocktail hour had arrived.
But before going on to describe the rest of the evening's activities, a word about the aforementioned reference to the Goofy Gophers.
Lou and Roman have a great repartee when working on a project, and while there are numerous disagreements, and a lot of good natured needling along the way, at the end of the day, the work gets done, and done right.
But what surprised me, and for that matter Lou and Roman themselves, was how often they appeared to be in agreement, and complimented one another during the course of the day -thereby conjuring up images of the Goofy Gophers.
I made them promise never to let it happen again.
After dinner, Lou lit up the sky with one of his more impressive fires, and together with our biscotti, espresso and Montecristo's, we were treated to several snifters of Hennessy X.O, compliments of Roman, or as we sometimes refer to him – Goombah #2.
The skies cleared just in time for campfire, and we thoroughly enjoyed the fire and star show, although the full moon dimmed our view of the stars somewhat.
Roman lit a small fire in the stove just before turning in, and we could not have been more comfortable, as we literally talked ourselves to sleep.
Well, Back In the Old Days…
You've probably heard me say many times that Lou is not a morning person.
Watching him come out of his morning fog is something to behold, and what makes it really special, is that he usually changes it up every day.
Some mornings, a bit of good natured ribbing will do it, or perhaps a blast of the air horn, and in extreme cases, I'll serve him coffee in bed. This usually gets him moving, because he starts to feel guilty about being the only remaining lay about.
The fun really begins once he's actually upright, because he invariably starts trying to talk himself out of his personal fog, and this morning was no exception.
On the drive to and from the cabin, we keep ourselves amused by listening to Lou expound on, and ask any number of questions about places he sees along the road, and/or other subjects that just otherwise pop into his head.
One such place was Fushimi Provincial Park, located just north east of Hearst, ON. Apparently someone he knew of Japanese descent had visited the Park, and together with Lou, wondered how the park, and the lake on which it's situated, came by such a Japanese sounding name, particularly in that part of the world.
Although an internet search was conducted on the way up, the mystery remained unsolved, so he spent much of the time during breakfast going over and over it, until he was fully awake and ready to go.
So Lou, I did some digging on my own, and buddy, this "fog lifter" is for you.
Fushimi (伏見区 Fushimi-ku) actually means "hidden or underground water," and is one of the eleven wards in the city of Kyoto, in Kyoto Prefecture, Japan.
According to Ontario's historical geographic names records, Fushimi Lake (officially named in 1952) and Fushimi Township were named after "His Imperial Highness Prince Fushimi, envoy from Japan to the Court of St. James, England.
He paid a visit to Canada in June 1907 prior to the Russia/Japan war.
Todays plan was to spend the morning fine-tuning the water heater, cutting up a few more tress that had fallen during the year and finally, fabricating and installing a bench in the shower room/sauna.
Then if time permitted – which it should – we would do some fishing.
The water system was attended to, and the wood cut, which left only the bench remaining on the "to do" list.
Roman had decided, over Lou's objections (the boys were now back into their normal groove), that any old run of the mill bench would not do justice to the décor of the shower room/sauna, and designed a cedar bench, that featured a rounded, or bullnose front.
Work began just before noon, and before you could say: "What took you so long?" the fabrication and subsequent installation was finally completed at approximately 5:30 pm.
5 ½ hours to build one little bench – a nice one mind you – but still…
Lou, who rarely misses an opportunity to get one off, quipped that back in the old days, we would have built the better part of an entire cabin in that amount of time – and you know something – he was right.
Anyway, the bench was both beautiful and functional, and represented quite an accomplishment given the rudimentary tools the boys had to work with.
The time had now come to give the shower another go, and road test the new bench, both of which worked to perfection - but for one minor glitch that is.
Throughout the day there had been a number of good-natured threats exchanged, about how much fun it would be to play around with the temperature and water flow settings on the heater while someone was actually taking a shower – all in the name of science of course.
While Roman and I didn't take any of it very seriously, Lou on the other hand had become somewhat paranoid, and before taking his shower (Roman and I had already taken ours), extracted a solemn promise from both of us, that the heater settings would remain unchanged.
Although we did give him our word, it was clear that he was not entirely convinced we wouldn't get up to some form of skulduggery, but in the end, decided to risk it.
The water system is primarily gravity fed, unless the heater is being used, then the pump must be engaged in order to create enough pressure to ignite it.
The pump operates off of a small gas generator, which had been running most of the afternoon, much of the time under load, as various power tools had been used in the construction the bench.
We heard the pump kick in, which signified that Lou was running the shower, and after a couple of minutes things got very, very quiet, because guess what – the generator conked out - likely because it had run out of fuel.
Roman and I just looked at each other, and both uttered a perfectly synchronized, "Oh Shit!"
In a matter of seconds, there was as stream of invectives coming out of the shower room that would have done any number of Longshoremen proud.
Roman being the caring kind of guy that he is – I was content to let Lou holler at bit more – ran over to the generator, poured in some fuel, and had it up and running in less than 2 minutes.
To say that Lou was "madder than a wet hen" when he stomped into the cabin, would be something of an understatement, and both our overall trustworthiness – or lack thereof – and character in general took a real shit kicking.
We let him vent for a bit, and finally managed to convince him that it was just a bit of bad luck, and not some nefarious plot on our part. He eventually did calm down, and later actually apologized for thinking we would ever do such a thing.
Now, what do YOU think really happened?
A charcuterie and cheese platter complimented our Martinis and Manhattans this evening, and after a delicious dinner, we watched Lou, our resident pyromaniac, light up the night sky, with yet another super nova like campfire.
Roman made effective use of his wood ration, and had the interior of the cabin at the perfect temperature just as we turned in.
Mine is DEFINITELY Bigger Than Yours
Possibly because we had a full moon the previous evening, Lou's fog lifter du jour was speculating on the shape of, and the length of time it took the moon to orbit the earth – assuming of course that it wasn't the other way around.
These questions remained unanswered until we had "bars," once back on the road, and if you're at all interested, the moon is in an elliptical orbit around the earth, and takes 27 days to complete the cycle.
So there.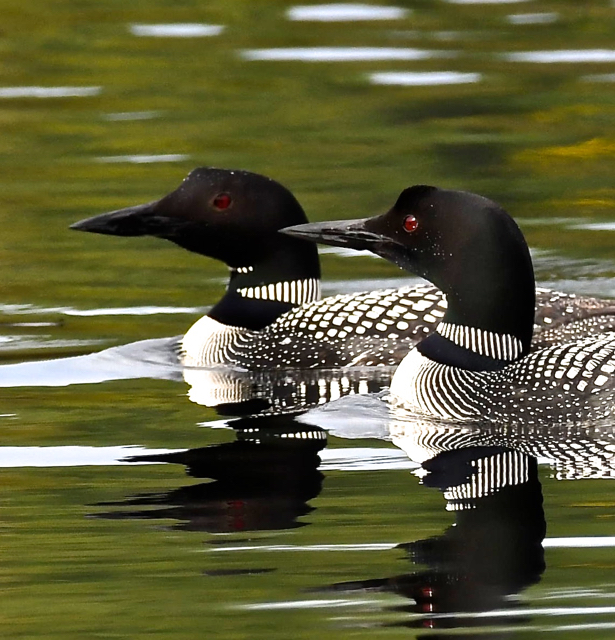 Despite our best intentions, we didn't get out onto the water yesterday, but today was going to be a different story.
Because we would be breaking camp tomorrow morning, we packed up a few things after breakfast, but after about an hour of that, grabbed our rods, and headed up river with high hopes that the fish would be in a cooperative mood.
Given the water levels, travel was somewhat slow so Lou, who once he's up doesn't do all that well when it comes to sitting still, needed something to occupy his time until we started fishing, and decided it would be a really good idea to empty my tackle bag.
Ostensibly it was all about finding, and choosing what colour/style of plastic grubs were likely to produce the most fish, but by the time we got to what I call the "whirlpool," which was our first stop, he had pretty much everything that was in the bag piled on the seat beside him – with several items scattered around on the floor for good measure.
Suggesting that it would be easier to land all the fish we were no doubt going to catch if everything was put away, he scooped all of my tackle back into the bag.
I sorted it out once I got home.
In a word – make that 3 words – the fishing stunk. You know what, let me add a 4th word – the fishing REALLY stunk.
While we did catch a few, all of my "go to" spots that had produced in years past, failed to cough up anything substantial, either in numbers or size.
In any event, it was a beautiful, warm sunny day, so after several hours of washing lures, I suggested we return to camp, have a cold beer and sandwich, then give it another shot later in the afternoon.
Apparently the beer and sun had taken its toll on the boys – catching fish certainly hadn't worn any of us out – because when I suggested we try fishing our lake, I got a couple of "are you kidding" looks, as they crawled into their bunks for an afternoon siesta.
What the hell, it was their vacation too, so I headed out alone, and had not been fishing more than 15 or 20 minutes when I got a massive hit – and I mean massive.
I have some experience with big fish, and when I could barley move it, wished one of the guys had come along, because if I did manage to get it to the boat, landing it on my own was going to be an adventure.
No worries though, because whatever it was decided to scream off most of my line, snapping it during the process. Hmmm, I'm guessing maybe a big Pike…
When I returned, the boys were still in siesta mode, so I took the time to set up my camera to take "star" shots later that evening.
There was going to be some ambient light to contend with from both the campfire and moon, so I fine-tuned the settings in order to take these challenges into account, but nevertheless, I was somewhat disappointed with the results.
As it turns out, although I was shooting in full manual mode, in order to gain full control over the ISO setting, I had to disable the auto ISO sensitivity setting on the camera – which explains why the damn thing was blinking at me - so the pictures were not as bright and sharp as expected, particularly in view of the fact I was using a new lens specifically designed for astral photography.
Live and learn as they say.
Given yesterdays experience with the generator, no one was particularly interested in having a shower – especially Lou who I still believe was not entirely convinced that we hadn't committed an act of high treason, and if given another opportunity, would do it again in a heartbeat.
Because we decided to forego showering, cocktail hour arrived a little bit earlier than usual, and we enjoyed our libations and kettle chips on the beach, while catching a few rays.
Campfire, cigars, espresso and digestives were savored after dinner, and we finally turned in around midnight, with Roman's nightly ration of wood merrily crackling away in our small stove, thereby capping off yet another perfect week.
Breaking Up is Hard To Do…
Yes, the dreaded "break up" day had finally arrived, but not unlike setting camp up, when your not in a hurry, and have guys that know exactly what needs to be done - the installation of the heater notwithstanding - it really WAS a piece of cake.
After breakfast the water system was drained, and pots/pans and dishes washed and stowed away in preparation for our next visit.
We pushed off the beach at approximately 12:30 pm, and it took us about 1 hour to make it back to the boat launch.
Lou only had to jump out of the boat on 1 occasion to pull us, and our little barge through a particularly shallow spot, and after hitching everything up, we made one final stop in Geraldton for fuel and ice, before driving east to Kapuskasing, where we would spend the night.
"Kapping" Things Off
Adherence to tradition plays a pivotal roll in many of our activities, and overnighting in Kapuskasing has indeed become "traditional."
Several years ago, I decided that instead of driving through the night, and run the risk of running into a large quadruped -which did happen to me on one occasion - we would overnight in "Kap," enjoy any remaining libations, have dinner and just otherwise chill.
We had a very pleasant dinner at Casey's, and after retiring to my room for a night cap, we eventually dispersed, but not before agreeing that we would hit the road by no later than 7:30 am, which all things being equal, should get us into Whitby around 5 pm.
Other than a couple of stops for fuel, tradition reared it's head yet again, and we stopped at the Thornloe Cheese Factory located in – wait for it – Thornloe ON, to stock up on their superb cheeses, and we also took time out for a picnic in Tilden Lake, ON.
Do have any idea how hard it is to find a loaf of bread on a Sunday, while driving along Hwy. 11?
Hard.
Rather than stop for lunch at a restaurant, or at one of the many Chip Trucks scattered along our route, we decided to use up our remaining cold cuts and cheese slices, by grabbing some bread, and having a picnic.
Fortunately, the Trappers Trading Post in Marten River had bread, and after purchasing a loaf, we pulled into a very nice rest stop located on the shores of Tilden Lake, and made up some very tasty sandwiches.
The rest of the trip went without incident, and we arrived at my place pretty much right on schedule.
Hey Goombah's!
Without a doubt our 9th season was as good, if not in some respects better, than the previous 8.
This may or may not have had something to do with the fact that we finally got the water system sorted out, and were able to enjoy a hot shower in the "new" facility, although having said that, given the "generator incident," Lou may have a somewhat different opinion.
Good food and drink was consumed, firewood cut, trees removed, heaters connected, instructions read, fish caught, stars admired, campfires ignited, and a bench, that would not be out of place in Buckingham Palace, was constructed.
In terms of readings on the "gut-o- meter," which for those of you who don't know, is the device used to measure how much your stomach hurts because of all the laughing that takes place during the week - it registered a 9 out of 10 on average, with some days being a perfect 10 +.
Although I have said it before, it 's always worth repeating – you guys are the best!
After all, how many people do you know, that after being cooped up in a vehicle and small cabin together for over 170 consecutive hours, you would still be on speaking terms with?
Not many I'm willing to wager…
Le Menu
Libations
Alexander Keith's India Pale Ale
Grey Goose Martinis
Woodford Reserve Manhattans
Day 1
Smoked, Baby Back Ribs smothered in Sweet Baby Rays Spicy BBQ Sauce w/ Curry & Dill Tuna Salad
Cellar Selection:
2012 - Versado Reserva Ancient Malbec
Day 2
Dry Aged Chateaubriand & Free Range Eggs w/ Fresh Fruit
Fresh, Grilled New Zealand Lamb Chops w/ Horiatiki Salad
Cellar Selection:
2016 - Featherstone Rosé
Day 3
Canadian Back Bacon & Ontario Field Tomato Sandwiches w/ Fresh Fruit
35-Day Dry Aged New York Strip Loin w/ Ontario Field Tomato/Sweet Onion & Danish Blue Cheese Salad
Cellar Selection:
2014 - Zenato Amarone della Valpolicella Classico
Day 4
Gary Desjardins* Homemade Pork Sausage & Free Range Eggs w/ Fresh Fruit
Farfalle with Basil Pesto w/ Grilled, Cumbrae Farms Free Range Chicken Breast
Cellar Selection:
2012- L'Arco Valpolicella Classico Superiore Ripasso
Day 5
Monte Cristo Sandwiches w/ Fresh Fruit
Dolce
Lemon/Almond Biscotti
Digestives
Hennessy X.O
Eldorado 15 Year
After's
Montecristo #4
Espresso
*Gary "The Sausage Man" Desjardin is a sausage maker extraordinaire who plies his trade in Welland, Ontario. If you can find better pork sausage – buy it – and good luck with that by the way…
Special thanks to Nakina Air Services for conducting regular check –in's on our camp.